An interview with Carlo Giordanetti, Creative Director, Swatch
These words of Carlo Giordanetti, Creative Director at Swatch, exemplify the approach of the unique Swiss watch brand that has built an invaluable partnership with the world of contemporary artists. In an interview with Dr. Ellen-Andrea Seehusen of International Arts Management, Carlo described the origin and philosophy behind this precious relationship.
Swatch believes that artists, with their messages, freedom, energy and focus, contribute to making the world a better place. And as a brand, Swatch stands for an attitude, an approach to life, a way of seeing things. This has made it a natural partner in the world of art and creativity.
The making of an enduring relationship
When Swatch launched its product in 1983, it introduced the use of plastic in watches, which was unheard of in a tradition bound Swiss industry and seen almost as a provocation. But Swatch founder and former chairman Nicolas Hayek believed in a simple message: That his watches represented the "joy of life." With this extraordinary approach, Hayek engineered the revitalization of the Swiss watch industry, widely considered one of the most spectacular industrial comebacks in the world.
And in building this brand culture, collaboration with artists was quite like a natural thought, explains Carlo, because plastic is like a white canvas where artists can use colour as a way to express their personality and creative vision.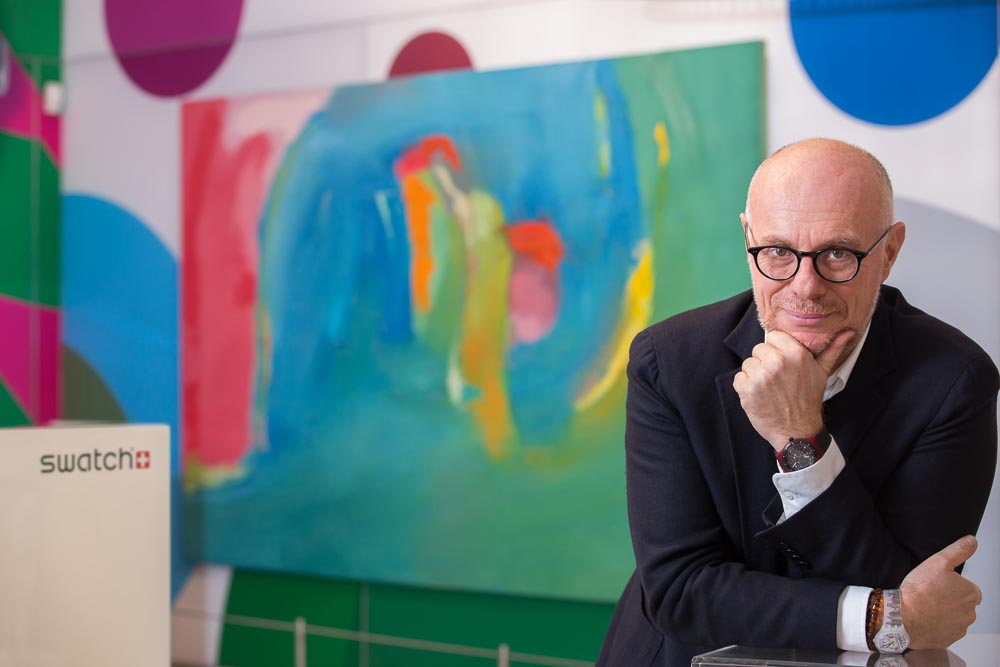 The first artist collaboration was in 1984 with the French graphic artist Kiki Picasso. The product was quite special at the time, because every watch was actually different, made with a special technique that let every dial have a different colour combination.
Presented at the Centre Pompidou in Paris, it was really the first of the generation of artist watches. Immediately thereafter, Swatch went into collaboration with Keith Haring, a spontaneous and provocative artist who represented the freshness of street art. This artist collaborations generated a certain hype around Swatch, and was followed by a collaboration with the Fondation Maeght, an institution in the South of France with a chic, sophisticated and intimate image, giving Swatch an opportunity to work with artists like Pierre Alechinsky and Valerio Adami who already had a name – showcasing a collaboration with artists of completely different backgrounds and personalities.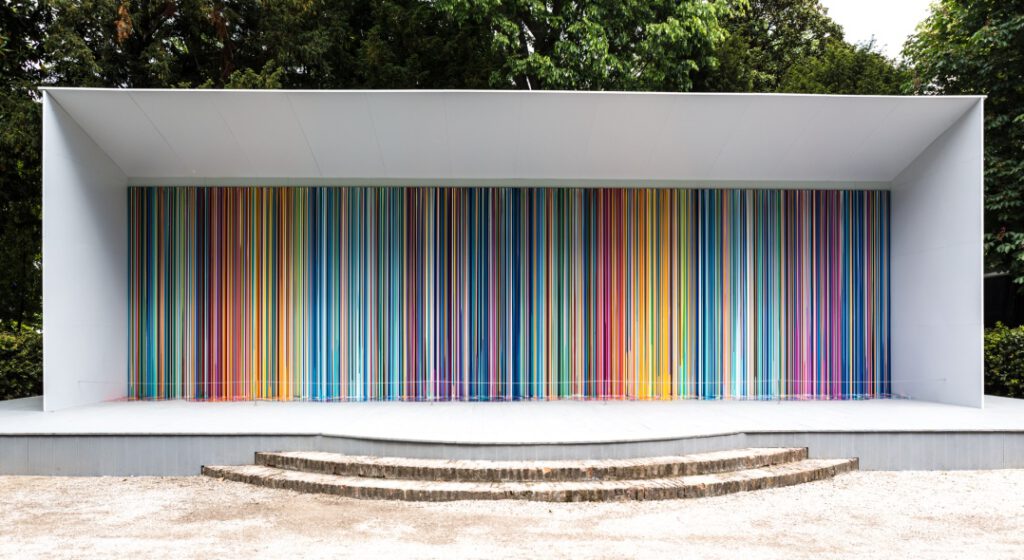 Thus began a long journey of partnership with the arts, which has covered historic milestones such as the Swatch Art Peace Hotel project in Shanghai and a lasting collaboration with the Venice Biennale.
Enabling an expression in freedom
Carlo describes the iconic Swatch Art Peace Hotel as "a lucky accident." The idea originated in 2007 when Nicolas Hayek was in Shanghai and China was starting to become an incredibly interesting market for Swatch. He was looking for a space that would somehow allow young artists to express themselves in freedom, recollects Carlo, and as he was walking up the Bund, he saw this historical building which sparked his curiosity. "The idea was to bring something young and fresh into a building that is really dusty," explains Carlo. It was finally transformed into a residency for artists with extensive renovation and creation of well-equipped artist studios.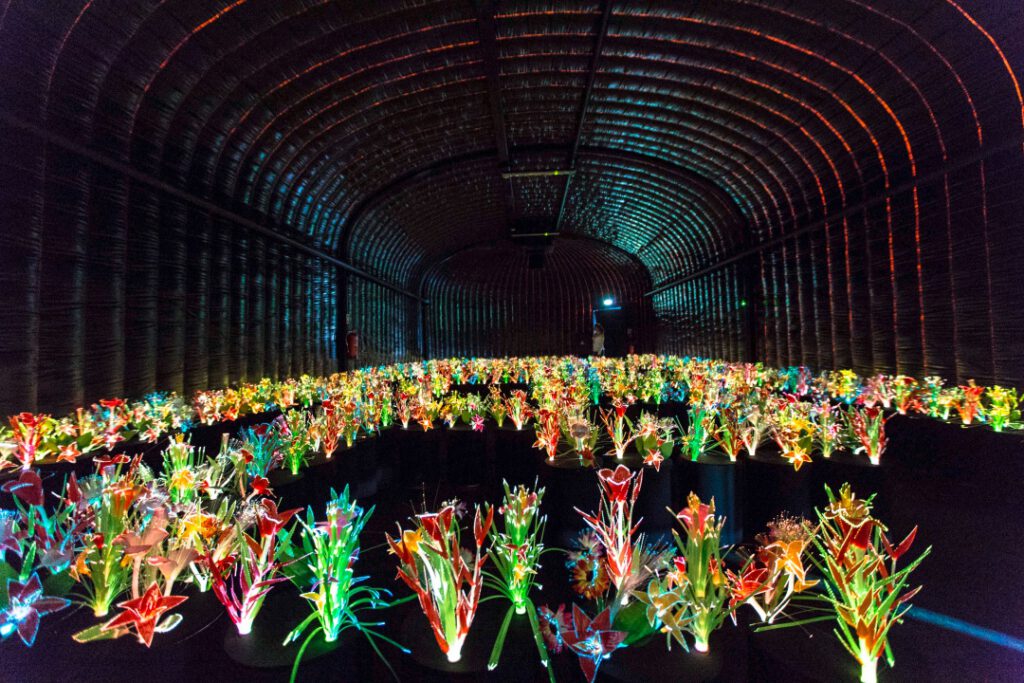 "It was a fantastic exchange of energy from the very beginning," remarked Carlo. With artists not only working by themselves, but also working together, the Swatch Art Peace Hotel is not only about the art itself, but also about the community. The Swatch Art Peace Hotel further resulted in a program called "Traces and Faces", which is an exhibition not only about the art pieces created by artists who participated in the residency of the hotel, but about the artist themselves.
Investing deeper into the partnership, Swatch takes these artists further into the art world, by showing their work at prestigious international exhibitions or introducing them at Swatch presentations. In particular, Swatch introduces multiple artists through its sponsorship of the Venice Biennale, showcasing their work in the Giardini and Arsenale. "This is for them really a dream come true," he says pointing out that the fact that the Ian Davenport installation at a central point in the 2017 Venice Biennale had become the favourite photo-point in the Giardini.
A multifaceted selection of artists
The selection of artists for the Swatch Art Peace Hotel program does not stem from having to design a watch. "It is really not part of the selection criteria. Some of the artists are not even interested in designing a watch," clarifies Carlo. The Peace Hotel is open to any artist of any nationality or discipline, and selection is based on multifaceted criteria such as the spirit of the idea, the diversity of projects, and the reflection of contemporary issues. In regards, to artists that seem interesting for product collaboration, Carlo explains that the choice is spontaneous, personal and based on aesthetics that respond well with the brand.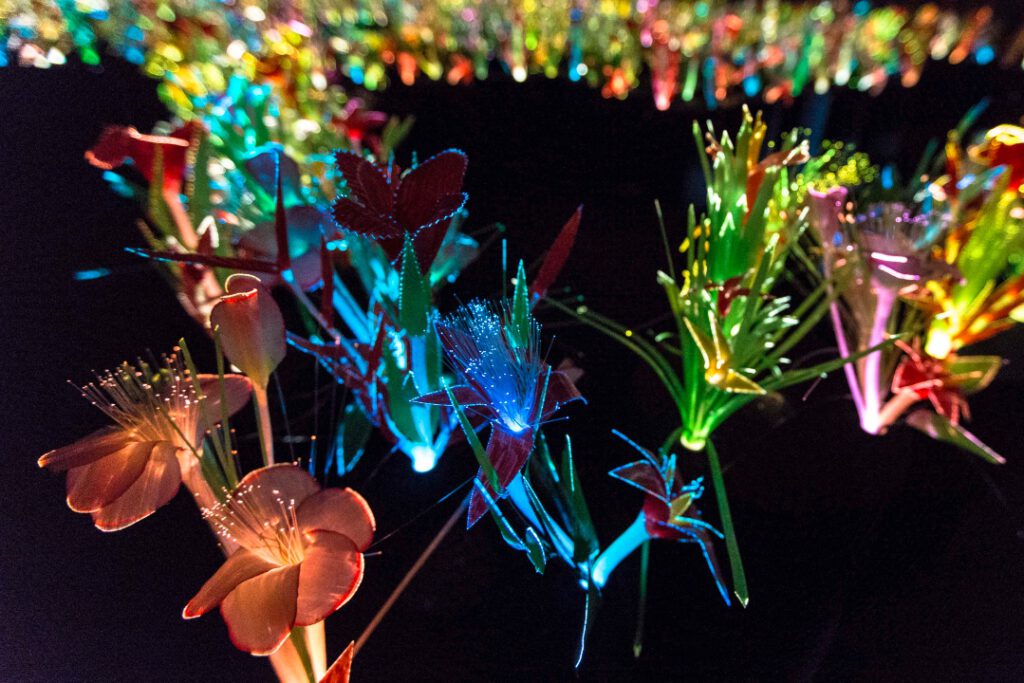 The Swatch artist collaboration is more about an emotional commitment, personal relationships and true exchange, for as Carlo adds, it is a privilege to interact with artists. He believes that contemporary art has truly changed the impact of the brand. "When you invest yourself so intensely into something, it shapes the culture of the company," he comments.
An act of generosity
His advice to other companies contemplating starting an art engagement is to invest in younger talent and have the courage to stand by them because you think that they speak the right language. This collaboration is "an act not of selfishness, but of generosity," he stresses. "You need to move out of the short term thinking of what it brings for me."
At Swatch, he has no doubt that their commitment will stay as strong. As he says, "The beauty of this program is that the Ten Commandments are the same, but the topic changes."
Interview: Dr. Ellen-Andrea Seehusen
Text: Dr. Ellen-Andrea Seehusen
Photos: © Swatch