Until June 20th 2021, the Kunstmuseum Basel is showing architectural and artistic works by Sophie Taeuber-Arp in the exhibition "Gelebte Abstraktion". In addition to her activities as an artist, she should be more widely recognised as an architect, which is one of the exhibitions' aims.
Sophie Taeuber-Arp (*19.1.1889 in Davos + 13.1.1943 in Zurich) decided early to study arts and crafts in St. Gallen and Munich, where she specialised in textile design and wood sculpture. Handicrafts in particular took on a new significance at that time as a contrast to industrial production, which was prevalent everywhere.
In 1914 she moved to Zurich and learned expressive dance, through which she was later also decisively active in the Dada movement, together with her then-husband Hans Arp. During this period, she took part in many exhibitions with her handcrafted works. In the mid-1920s, she and her husband became French citizens and Sophie Taeuber-Arp spent a lot of time in Strasbourg, where she received many commissions for interior design. In the early 1930s she then moved to Paris, from where she and her husband had to flee to the south of France to escape the Nazis in 1940. In 1943, they fled to Zurich, where Sophie Taeuber-Arp tragically died of carbon monoxide poisoning a short time later in Max Bill's house.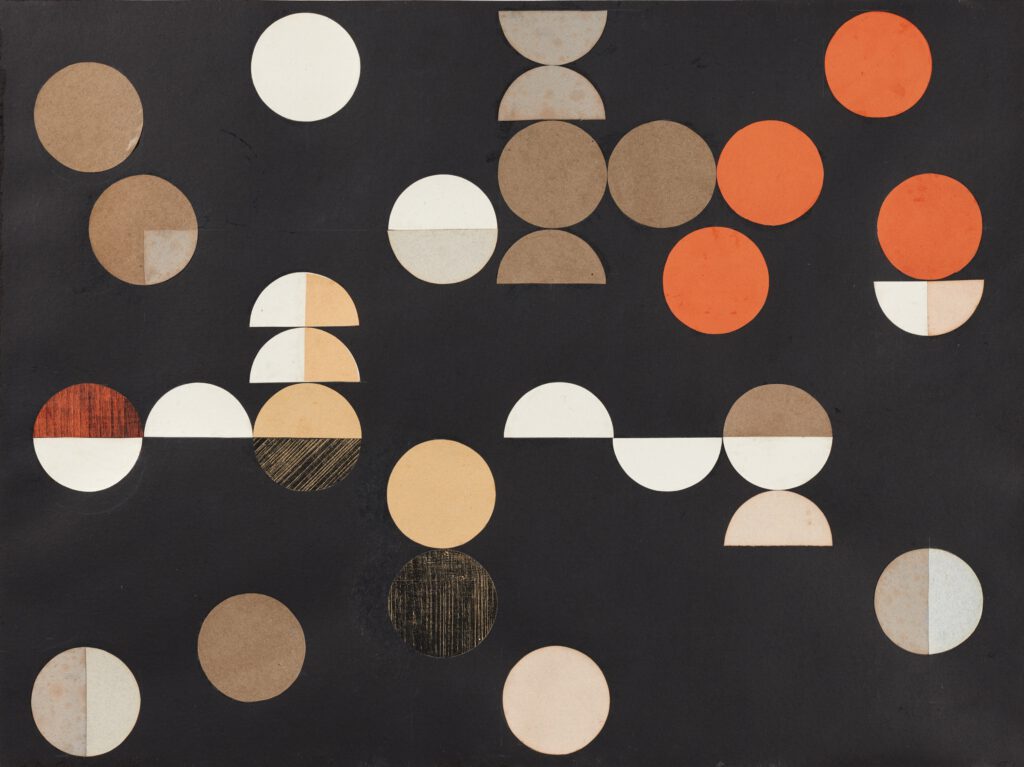 As Sophie Taeuber-Arp's main focus of activity was in Switzerland, she and her works should actually be well known there, as well as in neighbouring countries. However, she seems to be overshadowed by her husband, the German-French multi-talent who co-founded Dadaism as a literary and artistic response to the First World War in 1916 and had a decisive influence on it.
The Kunstmuseum Basel has now taken up this circumstance in its current exhibition, which is set to travel on to the MoMa and the Tate Modern, showing the many facets of Sophie Taeuber Arp's oeuvre, whose work combined interdisciplinary art and craft as well as architecture.
While her husband continued to work under his name after their marriage in 1922, from her wedding day on it was no longer possible for Sophie to work as Sophie Taeuber, but only as Sophie Taueber-Arp or Arp-Taueber, as she called herself until the early 1930s, thus always having to refer to her husband as well, while he retained his independence.
It seems almost cynical, that a large Hans Arp exhibition is currently being shown at the Fondation Beyeler in Riehen – as if the works of Sophie Taeuber-Arp herself could only be exhibited posthumously in the company of her husband.
Perhaps for this reason, too, the curators of the exhibition wanted to let the works speak for themselves, for her oeuvre thrives on a singular combination of craftsmanship and the avant-garde spirit of experimentation from the relevant circles in which she moved in Zurich and Paris.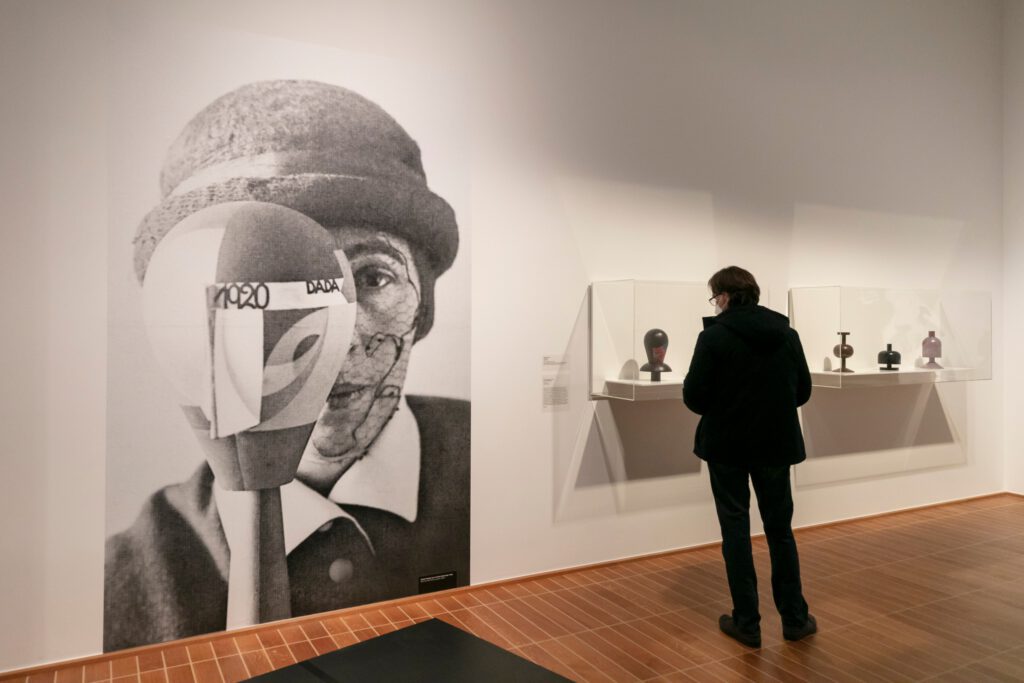 Instead of assigning then revolutionary ideas of abstraction to an intellectual field, as many others did, she designed everyday objects: cushions, tablecloths, bags, furniture and entire interiors such as in the Strasbourg café Aubette, which is also called the "Sistine Chapel of Modernism".
The exhibition shows Taeuber-Arp's extensive oeuvre chronologically in a total of nine rooms. It is striking, that grey-black areas of colour regularly run across the floor and walls – perhaps also a reference to her architectural projects, in which areas of colour were of great importance.
It becomes clear in what scales, dimensions and media Taeuber-Arp worked, starting with the small glass bead bags and necklaces that can be seen in the first room, which create an impression of the craft objects she made and sold, to her design for the studio and residence where she and her husband lived near Paris. Today, this house is home to the Arp Foundation, which manages the estate of her and her husband – without, however, mentioning her in the foundation's name.
A highlight of the exhibition can be found in the second room, namely the original marionette set that Tauber Arp created for the adapted commedia-dell'arte play "King Deer", which was only performed three times due to the influenza pandemic in 1918, but which continues to be an inspiration for creatives today – for example, Karl Lagerfeld photographed a collection with the marionettes in 2015.
In the following rooms, works from her time teaching at the Zurich Gewerbeschule and her textile works as well as gouaches are shown, until in the fifth and sixth rooms, the actual heart of the exhibition, her architectural designs are presented and become comprehensible to the viewer through large-format historical photographs and numerous designs.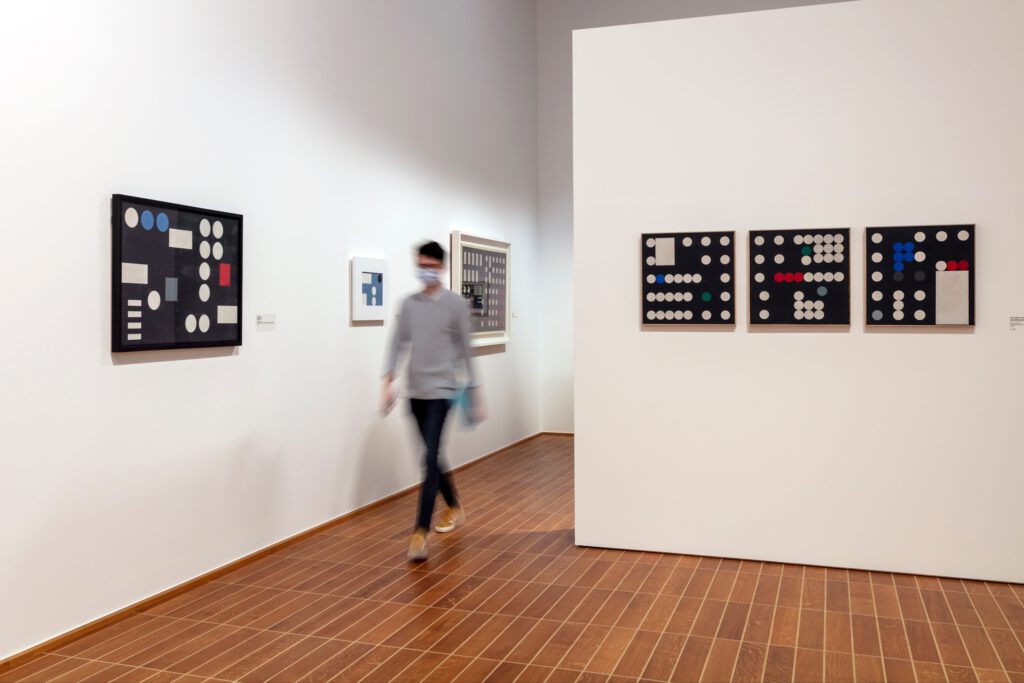 Here, the avant-garde's claim to modernise all areas of life, which united all designers, artists and architects of this movement, comes to the fore: Sophie herself was networked in the individual disciplines and was also active in them, so that the proximity of art and life is also shown in her designs.
Although only two rooms explicitly deal with Sophie Taueber-Arp's architectural work, all of the rooms can also be viewed from an architectural perspective, for her textile works, drawings and paintings also reveal a constant preoccupation with space and composition and the effect of colour.
The exhibition is a retrospective of more than 250 works and aims to establish Sophie Taueber-Arp as one of the great avant-gardists of classical modernism and to make her better known to an international audience.
The exhibition can be seen at the Kunstmuseum Basel until 20 June 2021.
An accompanying exhibition catalogue has been published in German and English.