The summer began on a high note artistically with a visit to one of my favorite museums – Louisiana near Copenhagen. On the way to our summer house in Sweden, we stopped to see the exhibition of American artist Dana Schutz (b.1976), one of the great figurative painters of our time. Along with a painter, Michele Melillo, it was an additional treat to discuss the work of an eminent storyteller who depicts people, relationships to each other, and nature in often gigantic compositions. Dana's universe is disturbing and fascinating. The exhibition was excellently curated and hung, starting with her most recent works, and leading backward, coming back full circle and giving a full view of Dana's skill and complexity over the last 20 years.
We saw biblical, mythical, and archaic reverences in the works: Gladiators, Roman soldiers, ogres, brutes, and goons battling with ancient weapons, clubs, and wielding old tools. Among them are women, Yucatan heads, and animals. As Michele pointed out, Schutz borrows from artists like Picasso and Courbet to Beckman and Grosz. There's so much Guston in the paintings that we started to look for the iconic fingers in various works. Michele opened my eyes to her use of color and the meaning of thick paint application in some spots. He often commented: "She doesn't need to do that…. It made me experience the work even more intensely.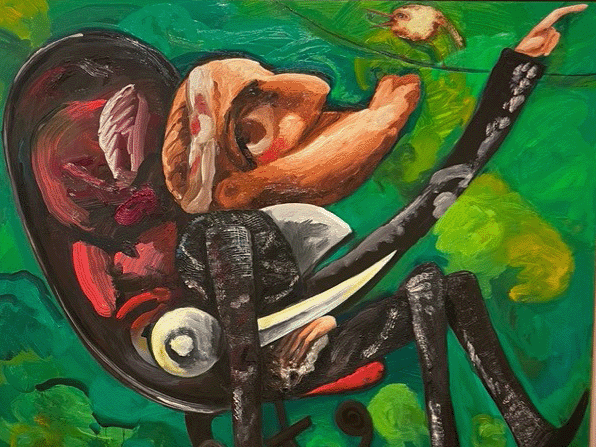 The intense colors of the paintings and the crowded figures make you feel like you are watching a theatre debut. Things are constantly moving around, and powerful painterly theatrics predominate. These paintings are hard to see – when you look, they collapse into an optically flooded caleidoscope. Michele pointed out the reference to Beckman and commented that every figure had its place and meaning (citing Beckman) – or sometimes not.
Like Nicole Eisenman, "Schutz is a progenitor of a kind of abstract imaginative figuration, keyed-up color, and looser gesture that is now widespread (Jerry Saltz in Vulture Art 2019)".
These young women artists put painting back into focus on the art market. They have freed themselves from the male-dominated painting style and grown their audience. A good painting lives with you a lifetime and has changing meanings at every view. The New York Times wrote: "Dana Schutz gives you hope that painting will endure to the end of our species."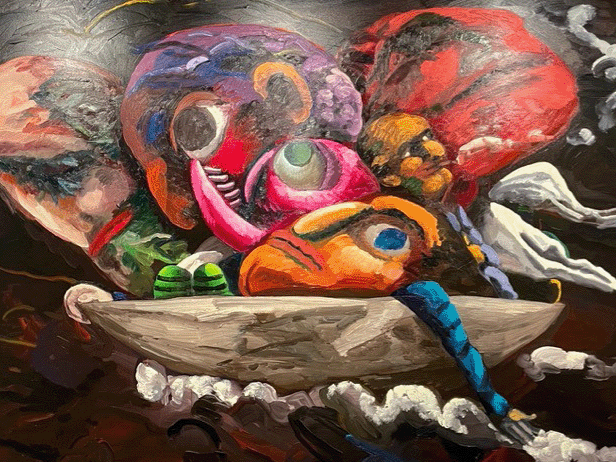 This deeper appreciation paved the way for another immersive experience as we transition to Nicole Eisenman's exhibition at the Museum Brandhorst.
Figures heavily trudge through the grand hall of the Museum Brandhorst in Munich, appearing as if emerging from a mire. Some are burdened with broken flagpoles, while others crawl, with the scent of resin in the air. The exhibition "What Happened" by artist Nicole Eisenman commences with this procession. However, visitors initially move away from this scene to enter the chronologically curated section, predominantly featuring Eisenman's paintings.
Here, castrating Amazons and men-abducting nymphs greet the viewer. The artworks, crafted in the mid-90s, resonate with the radical counter-culture and lesbian narratives of New York's Greenwich Village. Notably, the paintings are inspired by historical art forms: copperplate prints from European travelogues and hints of Renaissance draft sketches. These motifs gradually transition to more serene, self-reflective portraits, eventually embracing elements of the New Objectivity style. The battle of the sexes recedes from the canvases, replaced by vulnerable personalities. Yet, as the intimacy deepens, an ominous brown liquid seeps in. The looming shadow of Trump appears on the horizon, while the Tea Party is depicted in bunkers, armed with weapons and explosives. The artworks take on a distinctly political tone.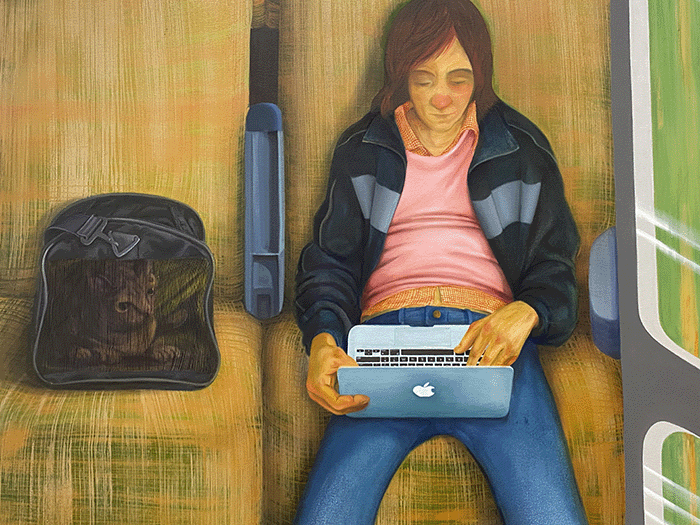 In this evocative exhibition, Nicole Eisenman masterfully weaves together the personal and the political, the historical and the contemporary. Her works, imbued with rich narratives and a keen sense of the zeitgeist, invite viewers to reflect on the complexities of identity, society, and the ever-evolving landscape of art. "What Happened" is not just a visual treat but a poignant commentary on the times we live in, making it an unmissable experience at the Museum Brandhorst.