It seemed almost like a remembrance of the past, a world that existed before the online viewing rooms and guided tours via Zoom: the real, analog world of an art fair. Yet, there we were, standing in front of the entrance of Art Cologne 2021, ready to dive back into the social arena of the art world, which had been outsourced to virtual tiles for way too long.
Two questions were ubiquitous – are collectors still going to art fairs, despite Covid-19? And the second, more important question: what works are the galleries going to show? Despite having exhibitions in their own rooms, there weren't many possibilities to show the hottest new acquisitions and artists' positions. With Art Cologne being one of the first art fairs to open, will they show the works, which have been undeservedly in storage the past 12 months?
Indeed, there were blue-chip pieces, for example, the eye-catcher from Gilbert and George, at the fair entrance: Priest-like idols and Venus-statues suspended behind bars, and the two artists in wild green and blue pin-stripe suits. These colors and topics, combined with the artwork's sheer size, are sure to gather some attention.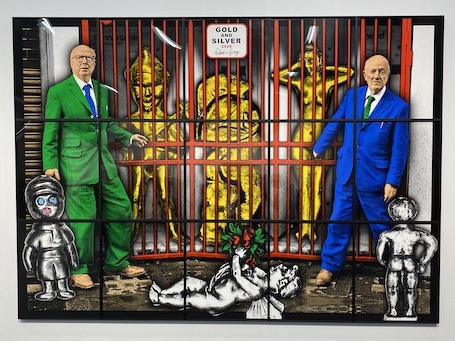 But despite this opener, the fair seemed to be more German, almost regional compared to editions in the past. There were many works from established German post-war artists like Markus Lüpertz and Sigmar Polke. The latter's trademark silk-screen-like aesthetic was combined with acrylic paint and marker in the art piece "Tiere in Jenseits" ("Animals in the Afterlife") from the year 2003. The artist's late painting showed his variety, wit, and humor, which always accompanied his artistic oeuvre.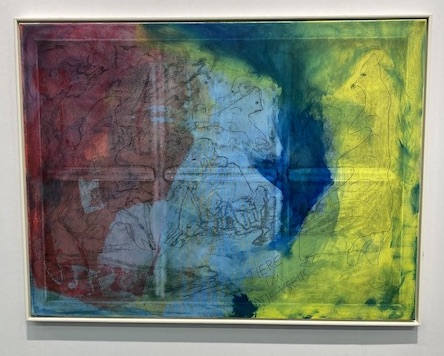 Another exhibited German artist from a more recent generation was Julius von Bismarck, who showed his processed photographs of wood fires. Being both an aesthetical pleasure and a menacing glimpse in a world post-climate change, the artist – known for his ecological engagement – contributed recent political and societal discourse to the fair.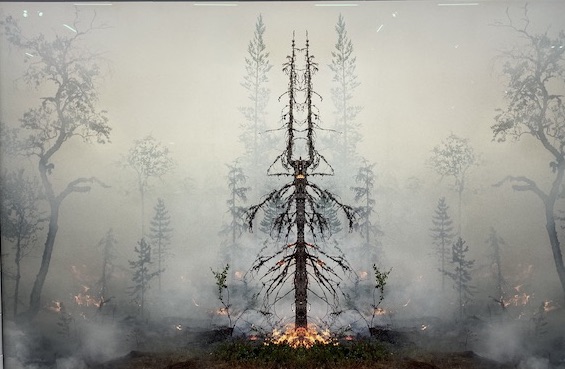 After the preview, IAM was happy to host another evening with friends and partners. Max Goelitz Gallery, BNP Paribas Bank, Pearl Lam Galleries, and IAM invited clients and artists. Whether discussing the day at the fair or catching up on the latest trends in the art world: we all spent a wonderful evening together. In moments like this, we realized how much we missed the face-to-face exchange with long-lasting friends and partners – let's hope we can continue these fruitful dialogs in 2022.