Since June, the art world has been descending on the rather unknown city of Kassel, which was for a 100 days the hottest destination for international contemporary art. The massive, quinquennial exhibition takes over the city. The documenta – this edition, number fifteen, is one of its biggest editions yet. Hundreds of works are displayed in 32 locations and nearly 1500 artists were involved in building and making the art. There are only two weeks left to view the exhibitions in Kassel and Göttingen. Documenta15 has unfortunately been criticized due to antisemitic content in several works. This has overshadowed the entire documenta. But – during our visit – we encountered many approaches and artistic practices that showed an inclusive and hate-free perspective on the world. In fact, the overwhelming majority of artworks and artists engage strongly against discrimination and prejudices. So we want to share these highlights as well as a productive dialogue on the anti-semitism debate. For example Christoph Heubner's "Institute to Remember" in the Kunsthaus Göttingen, partner project of documenta15.
This edition's curator, Ruangrupa, focuses on a communal aspect of life by appointing mainly artist collectives to take part. Ruangrupa, which itself is a collective of different artists and researchers from Indonesia, turned the usual concept of the star curator upside down and favoured the community over the individual. This concept encompasses the appointment of collectives in nearly every part of the show. Be it the use of special terms and concepts taken from the Indonesian language like Lumbung, Majelis or Sobat-Sobat up to the fact that many exhibitions are a work in progress, where visitors can interact with the artists, asking them questions or taking part in their performances.
To give a comprehensive look of the documenta is not possible – due to the large scale and the hundreds of positions which are exhibited and constantly changing. So instead, we focus on three collectives and their exhibition spaces to give an entertaining glimpse into this year's edition.
1. Atis Resistans
A place highlighting cultural exchange and unexpected parallels is the church St. Kunigundes on the outskirts of Kassel. There, the artist collective Atis Resistant | Ghetto Biennale from Haiti displays sculptures and videos citing the Voodoo cult, which is common in Haiti, by assembling the artworks from real human skulls, found objects and cult figures.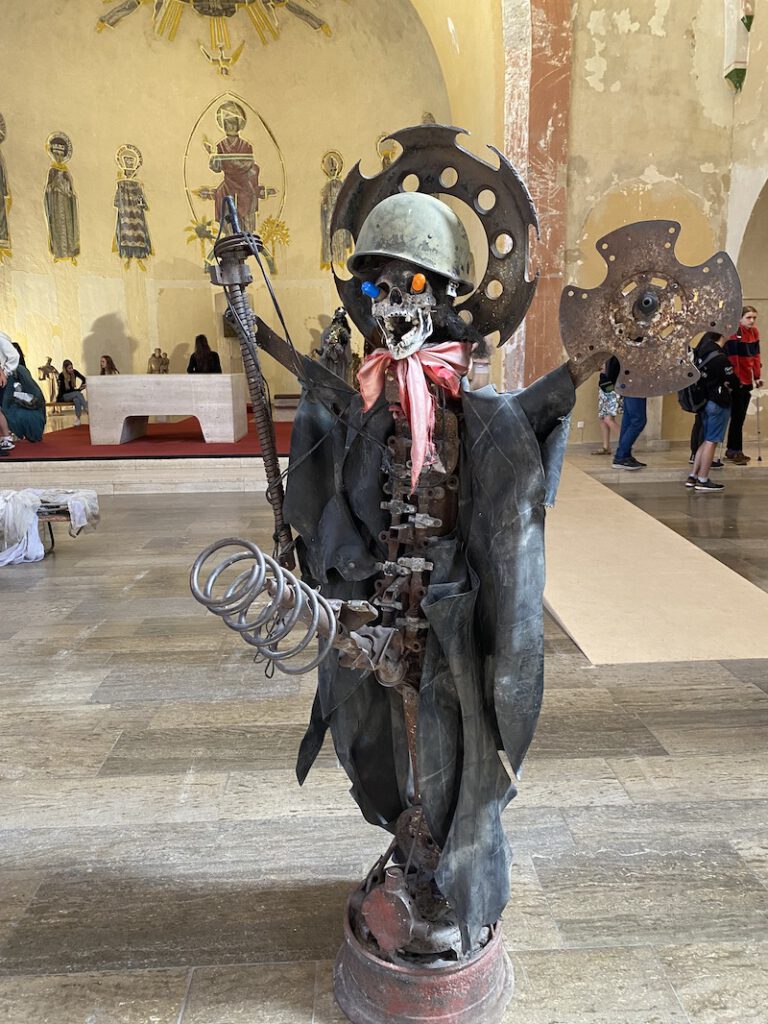 What at first sight seems alienating and even impious reveals itself as just another angle on a cult prevalent in European churches: the reliquaries found in most ancient catholic churches. Cultural exchange is seen as kind of a traditional continuity when looked at this way. The exchange of ideas and religious art is also visible when comparing the sculptures made from Haitian artists to West-African art from the 19th century. A lot of the woodwork, often studded with nails, calls to mind correlating art objects from Nigeria for example, showing the travelling of artistic concepts on a global scale.
2. Hito Steyerl
Debating the current trend (or disenchantment) with crypto-currencies and the meta-verse, artist Hito Steyerl displays a hilarious mockumentary at the Ottoneum in Kassel (the work was withdrawn in July from documenta due to the anti-semitic works, but can now be viewed in the Film-Shop Kassel). Giving the premise of making a television reality series about Spanish shepherds and their problem with wolves, the tonality of the video work suddenly changes when technology is introduced in the production.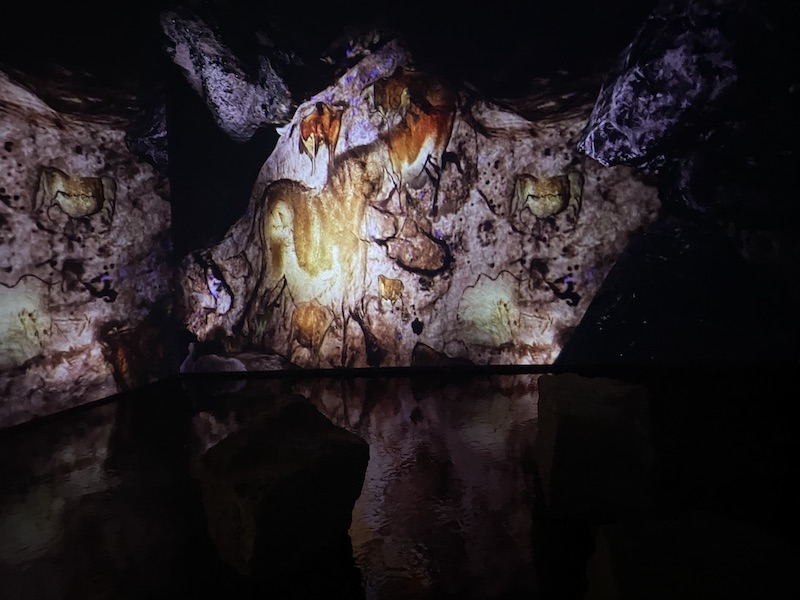 Wolves and sheep suddenly fight each other in a meta-verse arena while the cheese gathered from the animals is transformed into a cryptocurrency. While it is often not easy to follow the progress and logic of the movie, it is nonetheless a funny persiflage to our current dealings with new technology – which is embedded in late-capitalist behaviors and market logics. To gather some sense of calm after this stirring video work, Hito Steyerl also installed an immersive environment with the cave-painting of Lascaux – but the drawings are slowly changing and meandering, as if the visitor is on some kind of psychedelic drug.
3. Nest Collective
Sending back the trash that the global north has decided to export to Africa. This is the premise of Nest Collectives work "Return to Sender", on display in the Karlsaue at Kassel. The visitors are greeted by large chunks of electronic waste – parts of old TVs, stereos and kitchen utilities which were send to Nairobi to get rid of them but are now back again at their point of consumption.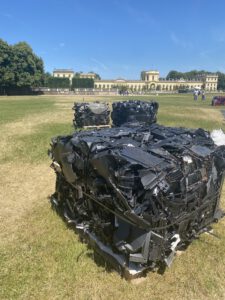 The exhibition continues in a kind of pavilion, made from second-hand clothes. A documentary is playing which points out the fact, that old clothes send to Africa are not an act of mercy or altruism, but rather a structural problem for many local merchants and garment makers. The Western products are cheap and destroy local markets – leaving many people out of work and force them to trade the old stuff for profits next to nothing. an eye-opening perspective for Western viewers and important work of artistic research.
4. Partner Project in Göttingen – Christoph Heubner
The Kunsthaus Göttingen, which is an official partner project of documenta, hostet an artist-special with the title "Talks against indifference" on August 14th with Christoph Heubner, who is Executive Vice President of the International Auschwitz Committee. Together with the documentarian Michèle Déodat, he put together an exhibition which tells of the beginning and climax of anti-Semitic hatred. The exhibition moves between times, between perpetrators and victims, and opens up spaces for discussion so that anti-Semitism, racism, hatred against minorities and Islamophobia can be understood from the different histories of origin of those involved and can be expressed in their pain. In the light of the debates and discussion surrounding documenta and the anti-semitic works, Heubner and Déodat engaged in dialogue and contextualizing current and past events.